Private Touring
If you do not want to be part of a large group with all the rigidity that entails then a private tour may be the alternative you are looking for. If you want all the freedom of a self drive tour, but none of the hassle, it becomes an even more interesting option.
When you travel with J A Johnstone Chauffeur Drive the key word is flexibility. Linger where you are really interested - move on when you are less so. Stop off for a break where and when you want - not because it is part of the schedule, and of course there is the added bonus that you are being driven by an experienced, informative driver/guide who has been there before.
Jim Johnstone and a few of his more experienced colleagues have, over the years, been privileged to share this spectacular "wee" country with many individuals and small groups. Anyone who has travelled with Jim in the past might recall his frequent comment that his is "the best job in the world - certainly better than working for a living". Well, that really is true with Jim and his colleagues since work ceases to be a chore when it is something you truly enjoy. Whilst we are keen to share our knowledge in terms of places, history, culture, we also aim to create a genuinely relaxed atmosphere. We do not give lectures over a microphone - we have conversations. Indeed we know there are occasions when people just want to sit back and enjoy the sights, and atmosphere. A good driver/guide knows each individual or small group will have different requirements and works from an early stage to ensure that their private tour is "tailored" in every aspect.
Though we provide day trips in the Highland area from our base near Inverness we have five driver/guides (Jim being one of them) who specialise in extended trips throughout Scotland. Such trips tend to be around five to eight days, and often start or finish near Glasgow or Edinburgh Airport. Longer trips can include parts of England and Wales, perhaps starting at one end of the country, and finishing in another. There are numerous alternatives. Your driver/guide, who is with you throughout, stays nearby when out of the Inverness area. We have a number of template itineraries available that may help form a basis for your plans, or at least provide ideas.
For one or two people we generally suggest one of our Mercedes saloons (sedan). We also have medium and large People Carriers (Mini - Van) for groups of up to seven passengers. All vehicles have full air conditioning.
Specialised Theme Tours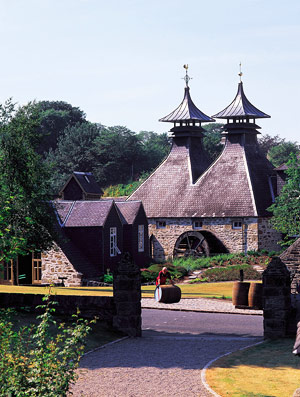 As you will know Scotland has, for centuries, been exporting its people all over the world. It therefore comes as no surprise that it is now a treasure trove of information for many who are seeking their roots. We are more than happy to assist in any way we can with an ancestral trail tour. To be with someone who is, for the first time, walking where their forbearers walked can be very special.
Tours concentrating on Malt Whisky are another of our specialities. Again this can be a day in Speyside through to an extended trip taking in Lowland, Island, and Highland as well as Speyside Malts. For more information on how one of these tours went go to www.tripadvisor.com where you will read what our friends Steve and Marcia Schecter thought about their trip.
Golf tours again can vary according to the requirements of each individual or group. For some it is a case of "get me to the next course" since the entire trip is all about golf, and an attempt to play as many of our magnificent courses as possible. Being a specialist area of travel we now have a dedicated golf driver / guide, Bill Kettles, whose knowledge and expertise adds greatly to the experience.
For others a trip incorporating an element of sightseeing on some days is more important. Again with private touring we have the flexibility to come up with a golf trip that is flexible, and designed for you.
Cruise Ships at Invergordon Dock
We are based about 25 miles south of Invergordon and frequently provide vehicles and driver/guides for visiting cruise line passengers who are seeking a days private touring. Again we will be delighted to provide itinerary ideas or work with you on any specific plans.